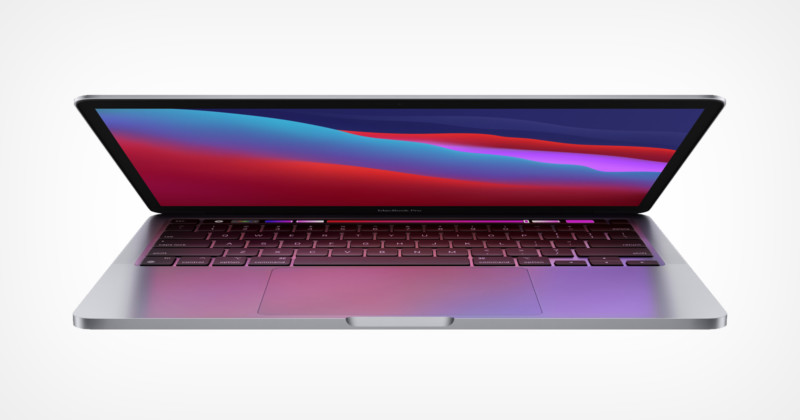 Adobe has shipped the first version of Photoshop that can run natively on Macs equipped with Apple Silicon and also has announced a new feature for Adobe Camera Raw (ACR) called "Super Resolution" that is available today.
Adobe Photoshop with Native Apple Silicon Support
According to internal tests, Adobe says that this build of Photoshop with native support for Apple Silicon showed "significant performance gains" across the application for those using Apple's latest Macs.
"Our internal tests show a wide range of features running an average of 1.5X the speed of similarly configured previous generation systems," Adobe says. "Our tests covered a broad scope of activities, including opening and saving files, running filters, and compute-heavy operations like Content-Aware Fill and Select Subject, which all feel noticeably faster. Our early benchmarking also shows that some operations are substantially faster with the new chip."
It's not just Adobe who noticed significant gains. In PetaPixel's testing, this version of Adobe Photoshop on Apple Silicon absolutely smokes expectations. Make sure to check out those performance notes here.
"While we will continue to work together with Apple to further optimize performance over time, we are very happy with the results so far. We think our customers using these new Macs will love the difference, too. Don't blink. You might miss the splash screen launching…" Adobe says.
Adobe additionally states that because it was able to launch the beta version of Photoshop for Apple silicon as soon as Macs with M1 chips became available, it was able to gather critical feedback from customers that it used to extend Photoshop to this new architecture.
As a note, not everything has been brought forward to this version of Photoshop.
"There are still a few features we haven't finished porting to run on the new M1 chip, primarily a couple of those we most recently shipped (Invite to Edit Cloud Documents, Preset Syncing, most notably)," Adobe stipulates. "However, the performance gains across the rest of the application were so great we didn't want to hold back the release for everyone while the team wraps up work on these last few features. If those features are critical to your workflow, you can simply switch back to Rosetta 2 until they make their way into the official build."
Super Resolution
In addition to adding support for the lastest Apple Mac products, Adobe also has unveiled what it is calling "Super Resolution." Super Resolution is a new feature to Adobe Camera Raw that uses machine learning technology to boost the resolution of an image, resulting in "higher quality results than ever before."
Eric Chan — who has worked at Adobe for 13 years on projects like Highlights and Shadows, Clarity, Dehaze, Camera Profiles, Lens Corrections, and Upright — led this particular endeavor.
"Imagine turning a 10-megapixel photo into a 40-megapixel photo," Chan says. "Imagine upsizing an old photo taken with a low-res camera for a large print. Imagine having an advanced 'digital zoom' feature to enlarge your subject."
Super Resolution builds on a technology Adobe launched two years ago called Enhance Details, which uses machine learning to interpolate RAW files with a high degree of fidelity, which resulted in images with crisp details and fewer artifacts. Chan says that at the time, he and the team reasoned that similar machine learning methods might enable them to improve photo quality in other ways.
The result of the past two years of research and development on this topic has led to the second "Enhance" feature: Super Resolution.
"The term 'Super Resolution' refers to the process of improving the quality of a photo by boosting its apparent resolution," Chan explains. "Enlarging a photo often produces blurry details, but Super Resolution has an ace up its sleeve: an advanced machine learning model trained on millions of photos. Backed by this vast training set, Super Resolution can intelligently enlarge photos while maintaining clean edges and preserving important details."
Below is an example of an image that has been upscaled two ways. First, bicubic resampling:
And next, Super Resolution:
While Chan admits that adding more megapixels isn't always necessary (often it is not), sometimes it really is necessary.
"Here's one of those cases where it's helpful to have more resolution. After photographing the bear from a safe distance and cropping the image down, I was left with "only" 4 megapixels," Chan says.
It's also helpful to note that while many standalone cameras and brand-new smartphones boast a lot of resolution, many of the phones that are in real people's hands in the world are still between 12 and 24-megapixels, which isn't a lot especially if you want to make a print.
"Using Super Resolution is easy: right-click on a photo (or hold the Control key while clicking normally) and choose "Enhance…" from the context menu," Chan explains. "In the Enhance Preview dialog box, check the Super Resolution box and press Enhance."
"Your computer will put on its thinking cap, crunch a lot of numbers, then produce a new raw file in the Digital Negative (DNG) format that contains the enhanced photo," Chan continues. "Any adjustments you made to the source photo will automatically be carried over to the enhanced DNG. You can edit the enhanced DNG just like any other photo, applying your favorite adjustments or presets. Speaking of editing, I recommend taking another look at your Sharpening, Noise Reduction, and possibly Texture settings. All of these controls affect fine details, and you may need to tune these for best results on the enhanced photo."
The feature works not just on RAWs, but also on other formats like JPEGs, PNGs, and TIFFs. Below is an example where Chan captured a timelapse sequence in RAW format, composited them in Photoshop to produce a TIFF, and then used Super Resolution on the composite: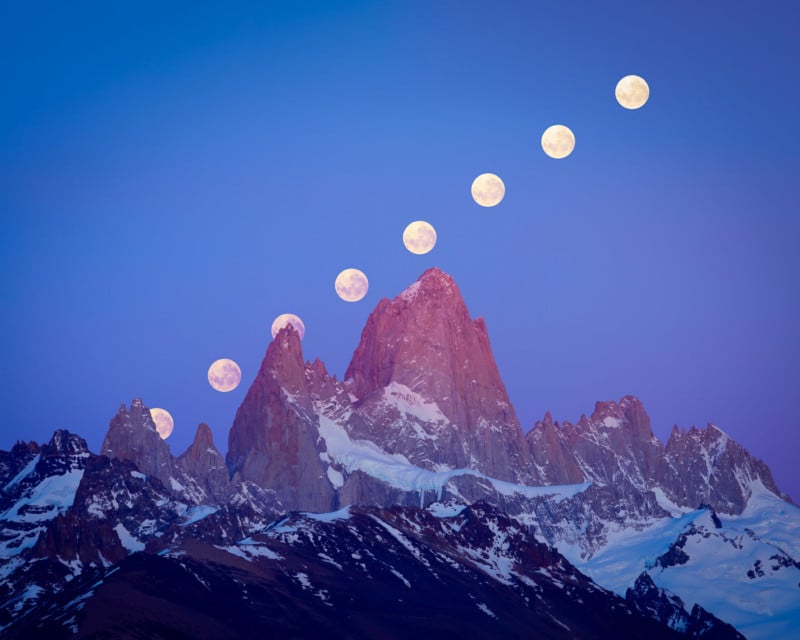 Super Resolution doubles the linear resolution of a photo, which means that the resulting image will have twice the width and twice the height of the original, or four times the pixel count. Images are currently limited to 65,000 pixels on the long side and 500-megapixels. If you try and apply Super Resolution to a photo that would exceed these numbers (like a big panorama), you'll get an error. Chan says he and the team are working on ways to raise the limits in the future, but for now, they think 500-megapixels is a plenty big start.
"Enhance Details was the first Enhance feature. Super Resolution is the second. We're now looking into ways to extend Super Resolution to produce even larger and cleaner results," Chan says. "We'll also be exploring other potential applications of the same underlying technology, such as improved sharpening or noise reduction. Anything we can do to make images look better is fair game!"
Chan explains how the technology was created and trained as well as shows a few more examples of the technology in use in a blog post on Adobe.com.