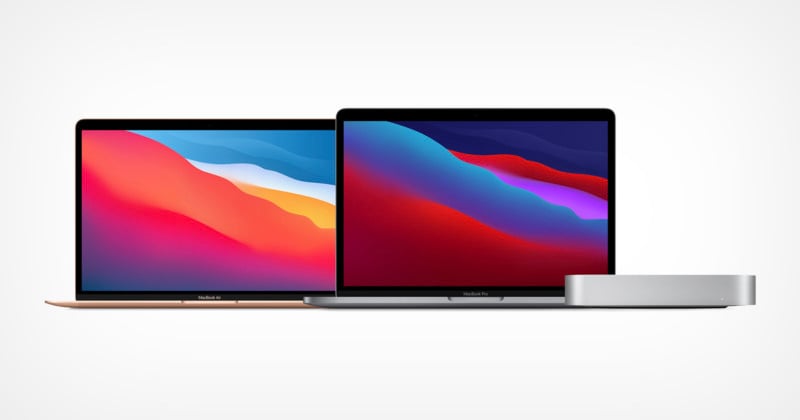 During Apple's third major event this year titled "One More Thing," the company announced the latest additions to its computer line and its first to feature Apple Silicon.
Defined as the "next generation of Mac," Apple promises better power efficiency and industry-leading power. The new computers are powered by Apple M1, a new chip designed specifically for Apple's new computers.
M1 delivers a giant leap in performance per watt and is the first system on chip, or SOC, for Mac. Until now, Macs needed multiple chips to deliver all of its processes. The M1 combines those into one and dramatically improves performance and power efficiency. Apple claims its CPU core is the world's fastest, and the M1 has four of them.
Apple said that its new Mac operating system, Big Sur, was designed specifically with Apple's new chip in mind. The OS is capable of instant-wake on Apple silicon, similar to how fast an iPhone or iPad wakes. Apple also promises 3D animation and video editing will be significantly faster on its new chipset and Big Sur.
The updates to the three computers announced today feature the largest jump in performance between generations of any Apple product before.
MacBook Air
Apple's most popular MacBook features 3.5x faster processing than the previous Air and promises "unheard of" speeds editing large RAW file libraries specifically in Lightroom. It delivers up to five times faster graphics performance as well.
Apple claims it is faster than 98% of PC laptops sold in the last year.
The MacBook Air also claims two times faster SSD speeds for faster access to data. The new Air delivers higher performance with no fan and is completely silent. Additionally, it can achieve 18 hours of video playback and 15 hours of general use. This is the longest battery life ever in a MacBook air.
Compared to the previous MacBook Air, this new model can export a project for the web with iMovie up to 3x faster, integrate 3D effects into video in Final Cut Pro up to 5x faster, play back and edit multiple streams of full-quality, 4K ProRes video in Final Cut Pro without dropping a frame, export photos from Lightroom up to twice as fast, use ML-based features like Smart Conform in Final Cut Pro to intelligently frame a clip up to 4.3x faster, and will extend FaceTime and other video calls for up to twice as long on a single charge.
Speaking of video calls, Apple has also updated the front-facing camera, integrating the company's latest image signal processor to make users look "more natural" on facetime calls. Apple did not say if the camera itself would see a resolution bump, however.
Apple also has given the MacBook Air support for P3 wide color, which it claims results in a more vibrant, true-to-life Retina display. Finally, Wi-Fi 6 delivers faster wireless performance, while two Thunderbolt ports with USB 4 support allow for connectivity to a wide range of peripherals.
The Air will retail starting at $999.
Mac Mini
Apple is bringing back the Mac Mini, this time featuring Apple silicon. It promises up to 3 times faster CPU performance than the previous quad-core version, a six-fold increase in faster performance. This new model features what Apple is calling an "advanced thermal design" that allows it to sustain its performance while staying cool and quiet.
Apple claims it's up to five times faster than the top-selling PC desktop. Compared to the previous generation Mac Mini, this new model can compile code in Xcode up to 3x faster, play graphics-intensive games with up to 4x higher frame rates, render a complex timeline in Final Cut Pro up to 6x faster, can use up to 3x as many real-time plug-ins in Logic Pro, and increase the resolution of a photo in Pixelmator Pro up to 15x faster.
The Mac Mini has support for up to two displays including Apple's Pro Display XDR in full 6K resolution, and Wi-Fi 6 for faster wireless performance.
It starts at $699, $100 lower than the previous generation.
13-Inch MacBook Pro
The new 13-inch MacBook Pro weighs just 3 pounds and offers 2.8 times faster overall performance and the GPU is up to five times faster than the previous MacBook Pro. Apple claims it's up to 3x faster than the best-selling Windows laptop in its class. For example, it can play back full-quality, 8K ProRes video in DaVinci Resolve without dropping a single frame.
Compared to the previous generation, the MacBook Pro can build code in Xcode up to 2.8x faster, render a complex 3D title in Final Cut Pro up to 5.9x faster, fluidly design intricate game scenes in Unity Editor up to 3.5x faster and perform ML tasks in Create ML up to 11x faster.
Apple has updated the microphones on the MacBook Pro to include what it is calling "studio-quality" mics for clearer recordings and calls. Also, similar to the MacBook Air, it uses Apple's latest image signal processing via the M1 chip to enable shaper images with moe detail in the shadows and highlights on video calls. Also like the MacBook Air, Apple made no mention of a camera resolution bump.
The battery life has been increased to up to 17 hours of wireless browsing, and up to 20 hours of video playback, making it the longest-lasting Macbook ever.
It features two Thunderbolt ports with USB 4 support, which includes being able to connect to Apple's Pro Display XDR in full 6K resolution.
The new 13-inch MacBook Pro with Apple Silicon will retail for $1299.
MacOs Big Sur will be available on Thursday, November 12 and the Macbook Pro, MacBook Air, and Mac Mini are all available to order today and will begin shipping next week.
---
This story is developing.