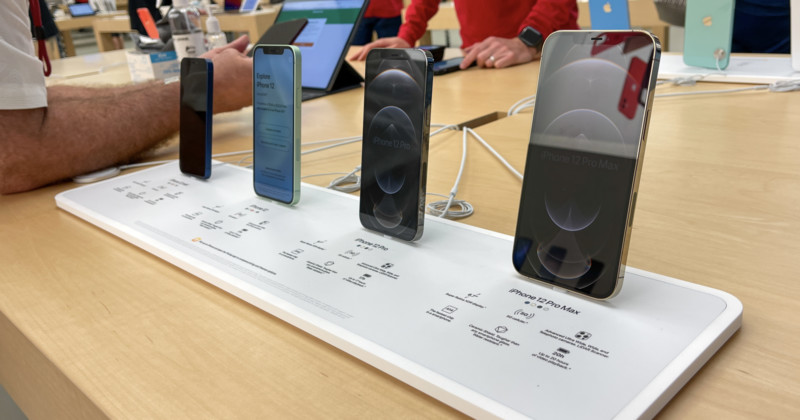 As much as folks seem to like to talk about desiring a smaller phone, it appears that actual buying habits argue otherwise. Apple is slashing its iPhone Mini production by 20% this year according to a report from Nikkei Asia.
Apple plans to cut its planned production of the iPhone 12 mini for the first half of 2021 "as part of a broader adjustment to output plans" from last year, according to the report. This sentiment echoes PetaPixel sources who have said recently that the iPhone Mini just isn't selling all that well in addition to a Reuters report from last month that stated sales of the iPhone mini in the United States constituted just 5% of overall sales of Apple's new phones.

Apple initially told suppliers that it needed components for more than 100 million iPhones for the first half of 2021 in what was likely an attempt to secure parts ahead in the midst of a global supply shortage. That target has been dropped to around 75 million units according to sources familiar with the matter. While lower than the initial order, it is still slightly higher than the iPhone shipments in the same period last year: Apple has reportedly told suppliers that it still intends to build 230 million iPhones this year, which is more than an 11% increase from 2020.
The largest chunk of that cut is specifically for iPhone mini parts. According to the report, some suppliers were asked to temporarily stop building components specifically for the mini. Nikkei Asia writes that the "mildest estimate" was that the company planned to cut production by more than 70% for the mini through June.
The adjusted production levels for the iPhone 12, 12 Pro, and Pro Max, were apparently mild as several people Nikkei Asia spoke with said that demand for those models stays healthy.
The iPhone 12 mini is a callback to the size of phones like the iPhone 4S and original SE, which many people say they like and yearn to return to in an age where phones are inching closer to the size of tablets. Part of Steve Job's original idea for the iPhone was to keep it small to assure that it could be easily operated with one hand. Theoretically that all makes sense, but hard sales numbers appear to disagree with that sentiment: customers widely prefer the bigger phone if it is an option.
While it's unclear what this means for future iPhone mini phones, it is unlikely Apple will continue to invest in the product line in the future if sales continue to be this lackluster.
(via Mobile Syrup)
---
Image credits: Header photo licensed via Deposit Photos.