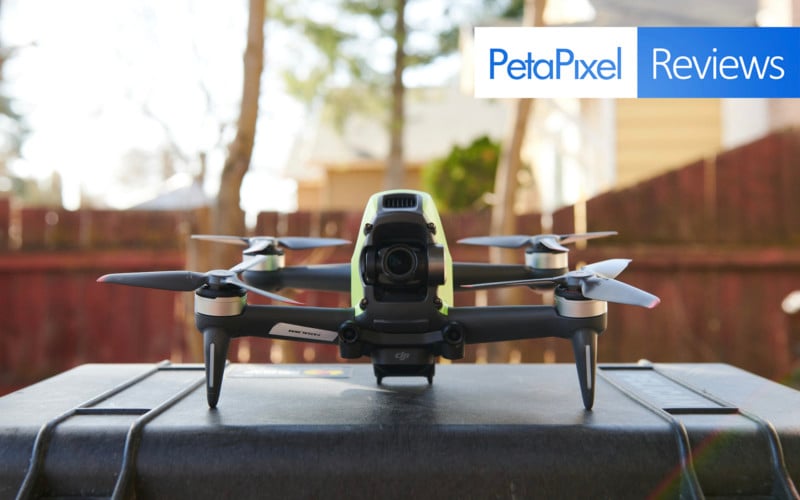 When I first heard DJI was bringing the FPV drone to market, I was excited but also a bit skeptical. Even though DJI's history in the consumer drone market is second to none, the company's offerings to the FPV market are a bit of a mixed bag coming from the perspective of a pilot from the racing and freestyle scene.
The DJI FPV has an impressive amount of features. It has three flying modes covering beginner-focused full-safety training wheels, to fully manual, balls-to-the-wall acrobatics mode. It also boasts 4k video capture at 60 frames per second (FPS) as well as 1080p 120 FPS slow motion, RockSteady in-camera stabilization along with a pared-down gimbal stabilizer, and a 10-kilometer range — the list goes on.
But is it good? Let's dig into it.
Design and Build Quality
Let's start with the good here: This is by far the best-looking drone DJI has released. It ships with all black plastic props and parts and is finished with a cool, dark smoke shell or — as you can see in the images here — a bright "Eternal Green" shell if you feel like adding a bit of spice to your look. The angles, rake, and size of the drone are quite fierce-looking. Coming from the "build-it-yourself" racing drone world, it's a slick-looking piece of hardware.
Sadly, that's really all there is good to say about the build quality. Unfortunately, the drone is flimsy. It is made of mostly plastic, including the arms, landing legs, and just about everything else which really surprised me since the entire FPV community uses carbon fiber frames. From what I could tell, the only metal parts are one spot under the canopy and some of the electronics. It feels solid in hand, but that is mainly because the battery adds weight and support to the rest of the frame. Speaking of weight, the FPV tips the scales at 795 grans, which is on the heavy side compared to most FPV drones of this size. The battery weighs 250 grams by itself.
Physics 101 says heavy objects made of plastic moving quickly, or in my case, hardly at all, break. Unfortunately, I found this to be the case the second time I put the DJI FPV in the air.
In my opinion, because of the plastic construction, it is not meant for hardcore racing or freestyle or any sort flying that would put a beating on it, so to speak. My experience might have been a one-off issue –and I have reached out to DJI to get some more information on it because I did exactly what the manual said — but I did have problems.
Prone to Damage, but Repairable
As a previous FPV/Freestyle pilot, I have always landed in manual mode, never with any kind of assist functionality. With the FPV, I did just that, and the drone didn't like it. It began to flip over the second it touched down and continued to run at full power grinding itself into the ground.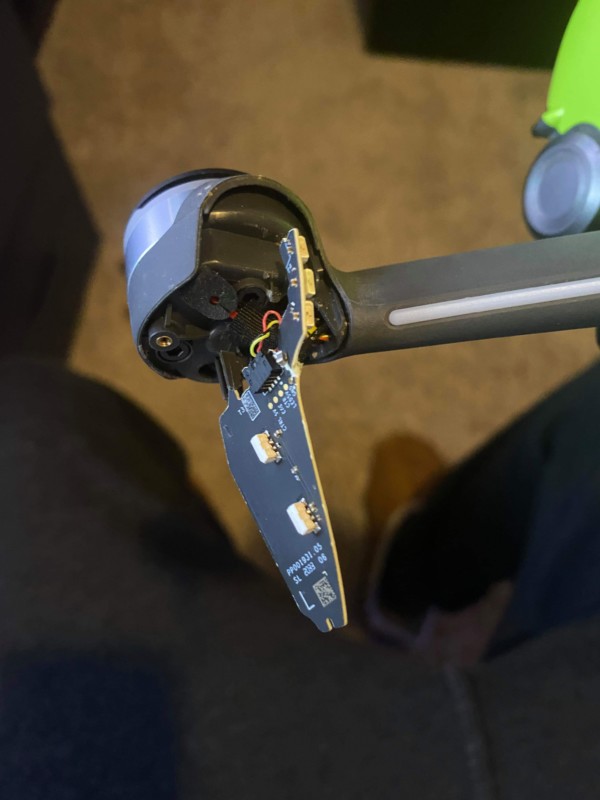 It was so violent it ripped off the sensor bar, threw rocks through the LED on the front landing legs, which, by bad design, is where the antennas are located. The shattering of the LEDs also shattered the Antenna PCBs since they are all one piece, which rendered the drone useless. I couldn't get a third flight out of it due to the goggles showing many errors and the drone twitching and being 90% uncontrollable.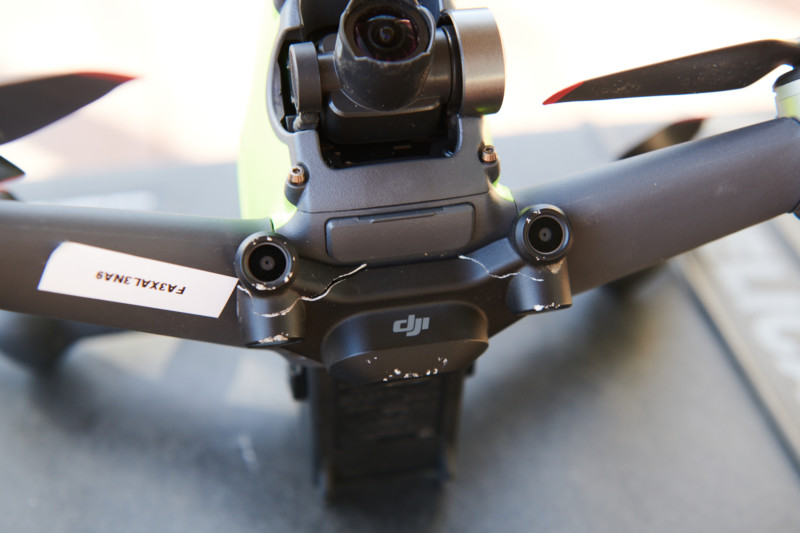 This issue leads to one of the largest selling points of the FPV: user repairability. After pulling the front legs off and discovering how they are put together, I found that it's just three cables to unplug and that whole landing assembly is replaced for what looks like $20 on the DJI site. Everything on the drone is removable with the included Allen key tool minus the primary arms, which require a larger, not-included Allen key. Pulling the shell off and checking everything out was very user-friendly.
Battery Life
Let's talk about flight times: DJI says you can get 20 minutes per battery if you're flying in normal mode. If you're just slowly cruising around, sure. That said, I killed the one battery I flew in manual mode in about 7 minutes, which really isn't bad when you consider I was pushing the FPV pretty hard. The batteries have smart charge technology, which allows them to charge insanely quickly too. So while I don't think seasoned FPV pilots will get anything close to the stated battery life, if you have a few batteries and a way to charge in the field, you'll be fine.
For an FPV, Image Quality Leaps Ahead
Now, we get to the part everyone always likes to talk about with drones: the camera. While it's not the most advanced one DJI has put in a drone, I for one, love it.
The 4k/60f FPS at 120 Mbps looks crystal clear and very smooth with the RockSteady EIS. Speaking from the perspective of a racing/acrobatics drone pilot, it is a huge upgrade from the old days of slapping a GoPro to a frame and just getting shaky video. The camera offers a nice, but limited, range of filming options from 4k at 60 FPS to 1080 at 120 FPS.
I can't speak very highly of the 1080p footage, though, which is in line with how DJI's other drones with similar recording features have performed. Filming on just a standard 1080 at 60 FPS, the footage looks blocky and seemed almost out of focus — I was not impressed with the footage at all.
4K is the way to go unless you really need the extra slow-motion option, in which case you should note you'll be giving up clarity as well as resolution in exchange for those extra frames. The camera does have a stills option, which I personally find useless on a drone build for speed, and the specs are a bit lacking: 12-megapixels and only JPEG; There is no option to shoot in DNG like with other DJI drones.
Staying in Control
DJI has released a new controller for the FPV which is about half the size of the standard FPV controllers. It has all the main functions you would expect from previous DJI controllers with a few additions, such as the hover/break button. This button allows you to instantly stop and hover in any mode if you get into a tricky situation.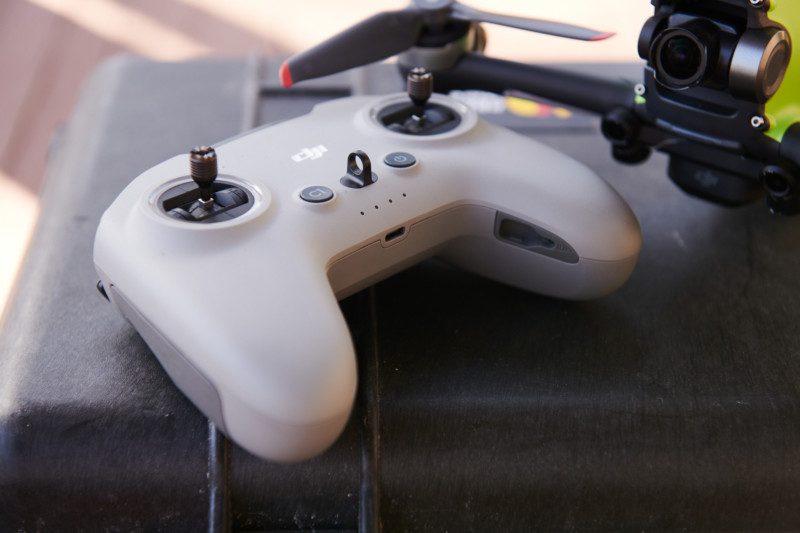 Yes, it even works when the drone is upside down. In those cases, it will flip over and hover in place. One part I was worried about with the DJI controller is the throttle stick. On other FPV controllers, your throttle is not a "return to center" style. Meaning, if you let go of the sticks, the drone will stay where you left it. This allows for much more throttle control which is necessary for freestyle and racing. I was happy to find out that the new controller has this feature built-in.
The grips underneath are removable, and it is there that you will find two screws. Tighten them down, and it releases the stick to have no resistance and no return to center. Genius! Other than that, it's a pretty standard controller that feels great in hand. No issues here at all.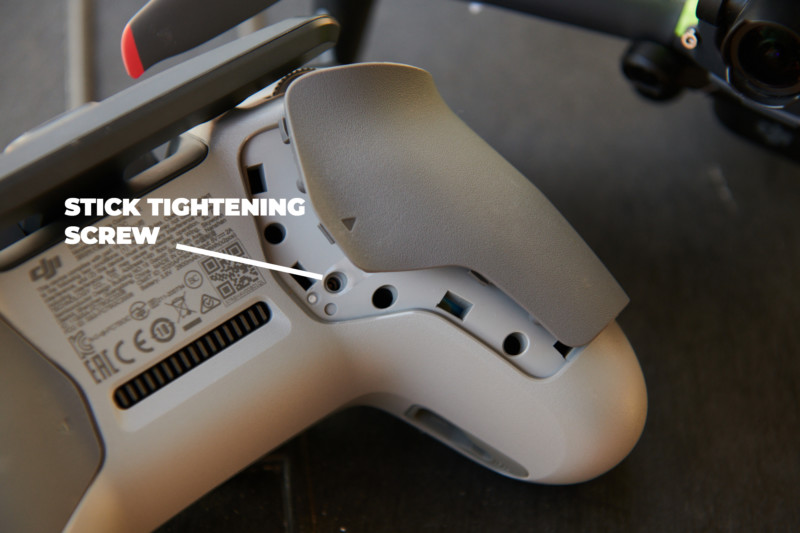 DJI has also released a new, optional motion controller that is available for an additional $199. I did not get a chance to test that out, as I only got a small amount of flight time before the drone broke itself as noted above.
First Person View
The goggles are by far the best part of the package. Coming from an analog video feed — which is how FPV drones prior to this DJI model transmit signals — this is a whole new game, and it's no wonder DJI put so much emphasis on this feature in marketing materials. Being able to actually see is a massive issue when flying fast through tight areas. With the DJI's new O3 video transmission system, you see everything. DJI boasts a 10km range for the signal as well, but I'm not sure that will actually work in real life. Just flying around through some trees, I would notice a small bit of pixelation, which would worry me on a long flight. I'll leave that up to someone else to test.
The only downside I saw to the headset was the battery: I would have loved to see the battery be internal. Currently, it runs from a long USB-C cable that has to be in your pocket or hanging. I'm sure you can mount it to the goggle strap, but building it in would have been my preference.
Software
As with all DJI products I've experienced, the software is great. It is very intuitive, feature-packed, and just all-around reliable. When testing, I ran a beta DJI FLY app on my phone, so features were limited; however, I look forward to testing out the live view feature in the future.
The goggle software is also great. Having never used this style before and remembering the old days of the analog systems, this was like using a television strapped to my face. Menus were all clear and easy to understand and the fact I was able to format the drone SD card, change drone control settings, manage camera settings, and tinker with controller settings, all from a visual standpoint, was very nice to see.
Exciting Drone, But Not For the Hardcore Pilot
If this is your first introduction to FPV, this might be for you. If you don't want to deal with the process of soldering motors, figuring out beta software, and taking the time to build your own drone, this is definitely one to keep on your radar.
On the other hand, if you have been in the FPV world and flown DIY drones, stay away.
The setup, usability, and flight characteristics are all great — I got nostalgic when I was doing flips and flying through gaps. I'm not going to say it's a bad piece of equipment because it's not, but it's just not there yet for an FPV drone that is being marketed as a freestyle drone because it lacks durability. It's all great until something goes wrong and you have to send it back to DJI to get an unserviceable part fixed.
FPV pilots crash. It's just a fact. When that happens with the DJI FPV, things that shouldn't break, do. With a $1,299 price, I would have hoped to have more stability in the arms, the sensor bar on the bottom to be a bit more robust, and overall see higher-quality materials.
Are there alternatives?
Honestly, no. DJI put together an off-the-shelf solution for a market that to this point has been building their own drones and as such, the only real alternative is to make it from scratch which many more serious pilots are going to want to do. For beginners though, this is all there is in the plug-and-play market.
Should you buy it?
Maybe. The DJI FPV is for an entry-level enthusiast who wants a simple, cost-effective FPV drone that is easy to fly and offers a great experiene while in the air. If you're a hardcore FPV pilot that intends to race and perform advanced freestyle acrobatics, stick to the carbon fiber do-it-yourself builds. That kind of pilot will be very disappointed with the DJI FPV.