I'm photographer Armando Martinez, and I recently shot what I believe is the first-ever drone hyperlapse taken during an entire "day" from sunrise to sunset. You can see the result above.
The video tracks the sun's movement with Denver's Republic Plaza building as the center point as the drone revolves around the city. It came out a little rough, but it was also my first attempt at a project like this.
This was actually a couple of years in the making and planned for the 2018 winter solstice, but at that time I only had DJI Inspire 2 drones and could not get enough batteries to run them for the necessary amount of air time.
The following year, I bought a Mavic 2 Pro and had a lot of friends in my local Drone Meetup group, Denver Drone Pilots Social Hour, who also had this drone. This allowed me to borrow enough batteries for the flight time needed.
I went back to my original plans and divided the Sun's path into 0.5-degree increments on a map.
This allowed me to chart a path with minimal fly-over problems and top plan my ground route for the day. I also created an oval shape around the city so the visual would look like it's pushing in closer during the middle then further away at each end.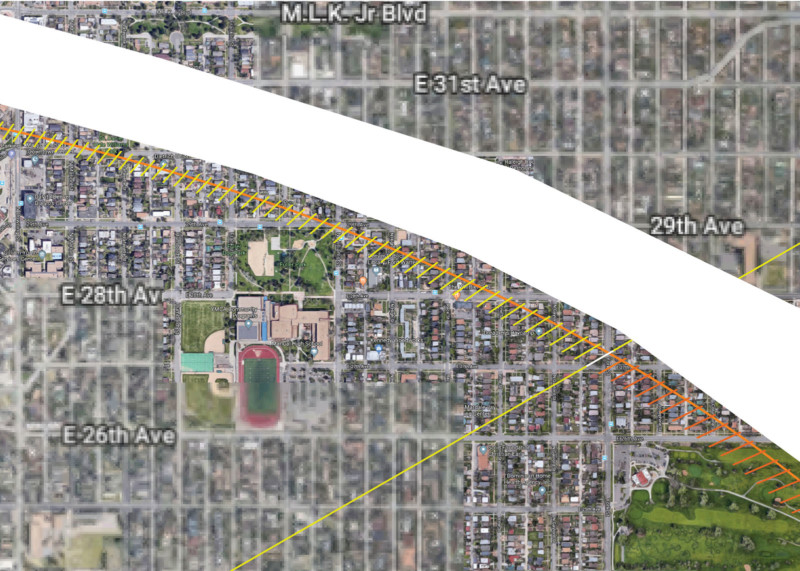 A friend of mine, Dan Fischer, was helping me that day driving my truck, which had portable chargers and all the batteries for the project.
The shoot started at twilight and ended just after sunset. It was a total of 459 photos over 11 hours and 3 minutes. I went through 27 batteries during the day but had plenty for the rotation as the used ones charged after use.
I think the hardest part was having everything we needed for the day with us in the truck since we could not take a break. Power bars and snacks kept us going and we even found a couple of places for bathroom breaks.
Overall it was a tough day and I was really glad I had Dan there helping me — at one point I thought I could do it myself but another friend talked me out of it.
---
About the author: Armando Martinez is a professional photographer based in Colorado. The opinions expressed in this article are solely those of the author. Martinez is the founder of Mando-Matic, a retouching and photography studio. You can find more of Martinez's work on his website and YouTube.