Insta360 has unveiled the Go 2, which is a small stabilized action camera that weighs a sparse 27 grams (that's less than an ounce). The company says this device can do what no other camera can: capture photos and videos without ever getting in the way.
The sales proposition of the Go 2 is a mix of its incredibly small size and some rather impressive performance perks. The tiny camera easily mounts to a host of different places thanks to the included accessories and a magnet built into the device, letting you clip it to yourself, use the charging case as a grip, or attach it to a headband, countertop, under a shelf, or on an animal.
The Go 2 uses a 1/2.3-inch image sensor (relatively standard for action cameras) at a maximum of 1440p (2560 x 1440) resolution and 2000 x 2000 photos. That's not a lot of resolution, but that's likely because of the extremely generous 6-axis stabilizer which likely uses a large portion of the sensor to digitally adjust for shake using its "horizon leveling algorithms." Insta360 was shy on more specific details, but if you're willing to take a slight hit on resolution and drop below 4K — which other action cameras can capture and have been for some time — the Go 2 appears to make up for it in its incredibly tiny size and well-stabilized footage.
That sensor is behind an ultra-wide 11.24mm (35mm equivalent) f/2.2 lens with a 120-degree field of view and can slightly condense to a 110-degree "Action View" mode.
The camera uses the INSP — the proprietary Insta360 360-degree image format — or DNG format for still images and records videos in MP4 format.
The Go 2 has a built-in hyperlapse mode as well as can shoot up to 120 frames per second in Full HD 1080p. It also has a timelapse mode that can shoot at intervals of 0.5, 1, 2, 5, 10, 30, 60, and 120 seconds and export those as finished 2560 x 1440 or 1920 x 1080 videos.
The Go 2 boasts a 30 minute video recording time with an additional 150 minutes from the charging case before needing to meet up with a wall socket. This design is akin to wireless earbuds, which have been using a portable charging case to mitigate low device battery life for some time.
Insta360 went one step further, allowing you to continue using the Go 2 while it is in its case while building additional features into the case. No matter if the Go 2 is in the case or not, the case doubles as a remote to control the camera (using Bluetooth, it can command the camera from up to 10 meters, 33 feet, away), but when attached it can be used as a handheld grip, as a 1/4″ mounting point for easy attachment to a selfie stick or tripod, and has a little kickstand that lets the Go 2 be set on a surface without falling over.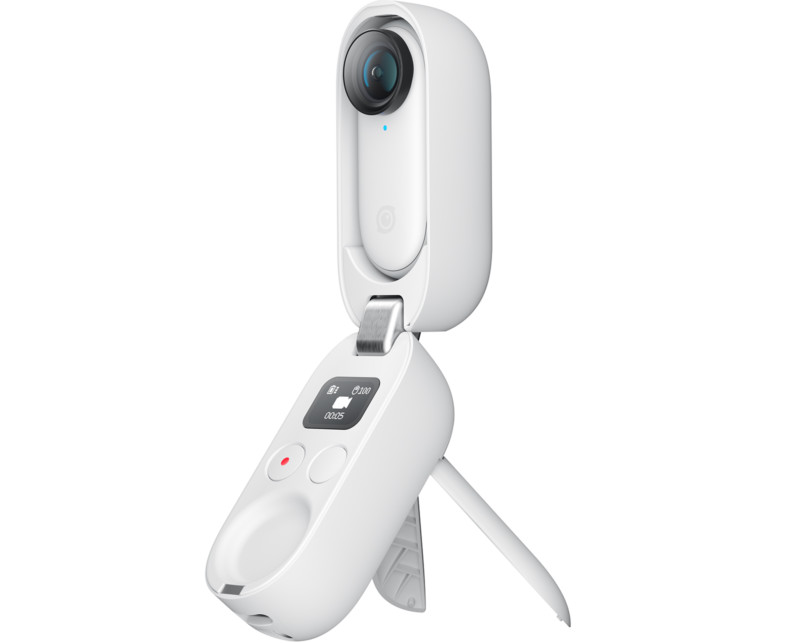 In lieu of an electronic viewfinder, the Go 2's companion app allows you to preview your shots in real-time over WiFi connection and adjust shooting settings. You can also use it to edit clips from the camera (or let the app's integrated AI do it for you).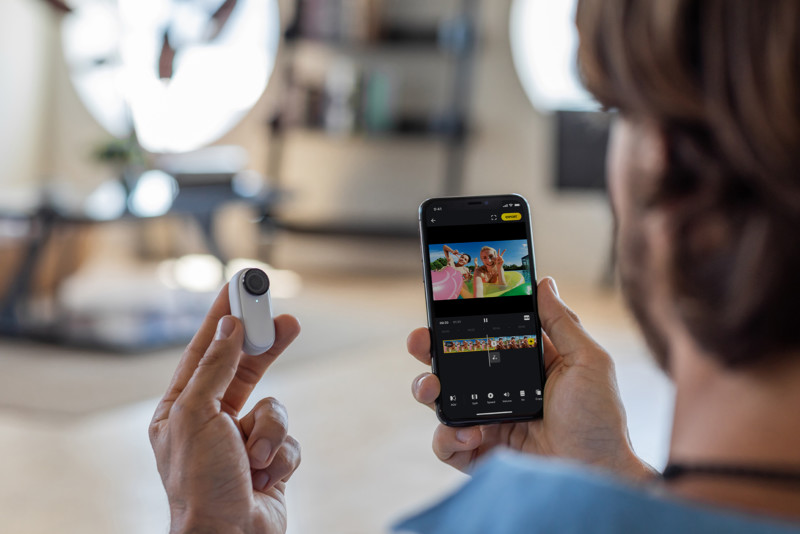 The Go 2 is also IPX 8 waterproof up to 4 meters (13 feet) underwater, and the hardened-glass lens guard protects the front element from damage and is easily replaceable should it scratch. Insta360 also separately sells ND filters that can be screwed onto that front element.
The base color of the Go 2 is white, but you can customize the skin if you purchase from Insta360.com. Speaking of custom skins, Insta360 appears to have realized that the design of the Go 2 is reminiscent of a popular cultural icon, and a special edition Minion skin is available thanks to a partnership with NBC Universal:
The Insta 360 Go 2 is available today for $300 and ships with a charging case, magnet pendant, "easy clip," pivot stand, and lens guard.