Leica has announced its latest L-mount prime: a 28mm f/2. This lens follows the company's existing focal lengths of 35mm, 50mm, 75mm, and 90mm lenses already available for L-mount, and promises top-tier optical performance and fast, reliable autofocus.
Leica says that the 28mm f/2 ASPH is the company's first true wide-angle prime lens in the series, making this lens especially suitable for "reportage, interior, and architectural photography." Leica claims that the wide-open f/2 aperture can be used without any loss in image quality and can be utilized for creating a balance between sharp subjects and beautifully defocused background blur.
"As is universally appreciated with all Leica lenses, the fastest aperture delivers maximum performance," Leica writes. "As a result, reducing the aperture is only necessary for compositional and creative purposes. Leica lenses always deliver an exceptional quality of natural skin tones, soft transitions into creamy bokeh, contrast-rich details and edge-to-edge sharpness across a distortion-free image."
The lens has an aperture range of f/2 through f/22, can focus from as close as 24 centimeters (~9.4 inches), and has a 67mm filter thread.
The APO-Summicron-SL 28mm f/2 ASPH also features apochromatic correction, which Leica says is notable for a lens of this focal length. The lens is made up of 13 elements in 10 groups and features three aspherical elements, which Leica notes are a total of six aspherical surfaces. To ensure the suppression of chromatic aberrations, the majority of the grouped lens elements feature "anomalous partial dispersion" and are made of high-quality specialized glass. Leica says the result of all this is a wide-angle lens that delivers impeccable images that still have the "Leica look" for creative photographers.
To drive the autofocus, Leica has implemented a high-performance stepping motor with a Dual Syncro Drive (DSD) which enables the autofocus to travel the entire focusing range in about 250 milliseconds. The manual focus capabilities of the lens were not ignored, as Leica has included a new manual focus ring construction in the form of an embedded ring magnet with alternating north-south polarization.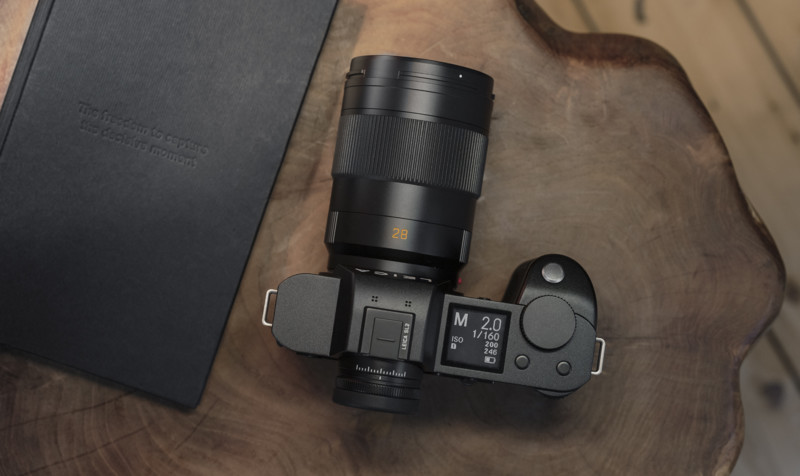 Leica explains it as such: "When the ring is turned, the magnetic field changes its polarity. A sensor monitors the status of the magnetic field and sends the data to the main processor. The drive then shifts the lens to the corresponding focusing position based on the angle of rotation and the rotational speed, delivering even faster and more precise manual focusing to match the lens's quick and accurate autofocus."
Practically speaking, expect extremely precise, accurate, and responsive manual focus control with this lens.
The lens has been treated with anti-reflective coatings, the build is sealed against dust, moisture, and water spray, and any exposed lens surfaces have been treated with an "Aquadura coating" which Leica says results in a lens that can be used in any weather condition without cause for concern.
The APO-Summicron-SL 28 f/2 ASPH is available immediately for $5,195.