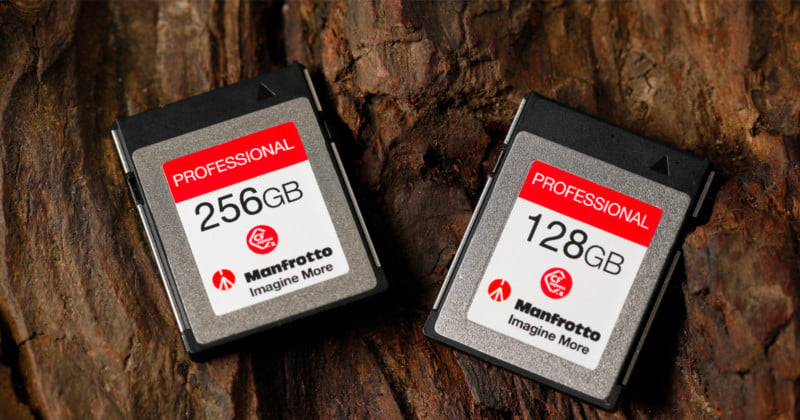 Manfrotto has expanded its growing memory card lineup to include two new capacities of the CFexpress Type B format. The 128GB and 256GB capacities promise 1,730 MB/s read speeds and the capability to record high frame rate 8K video.
Manfrotto's new CFexpress cards promise up to 1730 MB/s read speeds and up to 1540 MB/s write speeds, beating the top estimations of ProGrade Digital's comparable cards. Manfrotto states that its latest cards are designed to work best in pro DSLRs and advanced cinema cameras that require high-speed data transfer for both rapid-fire high-resolution photos and high framerate/resolution video capture.
The company specifically states its cards are designed to capture high frame rates at 4K, 6K, and even 8K resolutions. Manfrotto also designed the cards to withstand a wide range of environments, from desert heat to sub-zero arctic temperatures (or left in the sun in a hot car). CFexpress cards are rated for temperature ranges from -25 degrees Celcius (-13 degrees Fahrenheit) to 70 degrees Celcius (158 degrees Farenheit) without compromising their ability to function.
These cards are not waterproof, however.
Manfrotto's 128 GB card will retail for $199 and the 256GB card will cost $400. Comparable cards from ProGrade Digital start at $165 for the 128GB version and are available up to 1TB in capacity for $800. Manfrotto is coming in more expensive and with fewer capacity options than the competition, but the company also promises a bit more speed for that price.
Both card capacities are currently available to purchase from Manfrotto.com.
(via Digital Camera World)