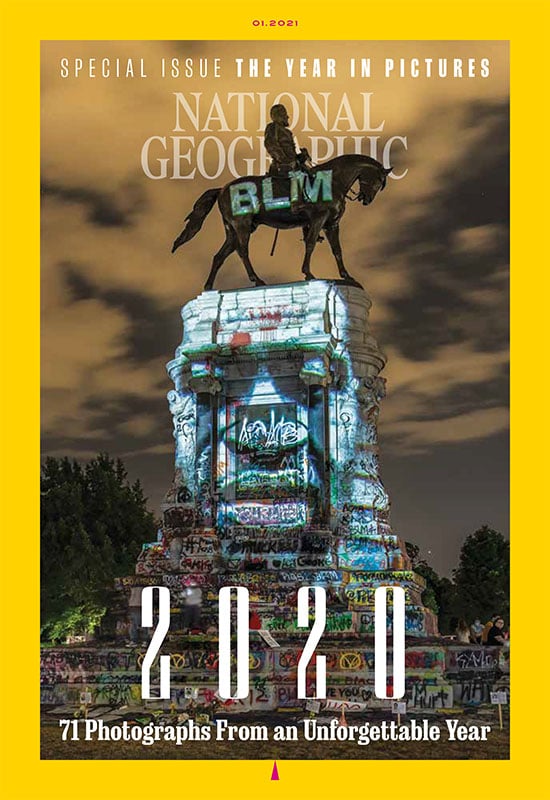 Yes, 2020 was a crazy year, and National Geographic, the most respected magazine for photography, has compiled its unique glimpse of this year. The January 2021 issue, which is also The Year in Pictures for 2020, is divided into four segments: the year that tested us, the year that isolated us, the year that empowered us, and the year that hope endured.
"In our 133 years, National Geographic has never singled out one year for a retrospective like this. But if ever a year demanded that, 2020 does," says Nat Geo editor-in-chief, Susan Goldberg. "In some respects, making this issue was not hard. We added more than 1.7 million images to the National Geographic archive last year—likely fewer than usual because the pandemic complicated travel assignments but still a wealth of material.
"The challenge was narrowing that to fewer than 60 images that most powerfully capture this astonishing year."
January also becomes a single-topic issue, which is a first in the yellow-bordered magazine's history. If you are a subscriber and don't have the patience for the January issue to arrive, there is a digital hub that also showcases it and the best photos of the 21st century, documenting some of the most compelling images over the last decade, as well as the best of the previous three years. There is also behind-the-scenes information on how the photographers captured these precious moments.
The issue chronicles the COVID-19 pandemic and devastating results inflicted in the United States, Korea, Italy, and other countries. It also captures a Michigan memorial to Supreme Court Justice Ruth Bader Ginsburg, who died at 87 on September 18, wildfires in Northern California, locust pestilence in East Africa, and of course, protests all over.
The Year in Pictures January issue also features notable wildlife wins of 2020, science photos of 2020, best animal photos of 2020, amazing discoveries you may have missed in 2020, best travel photos, good things that happened to the environment in 2020. The whole concept here is to provide hope for the future, although this year will not be forgotten any time soon.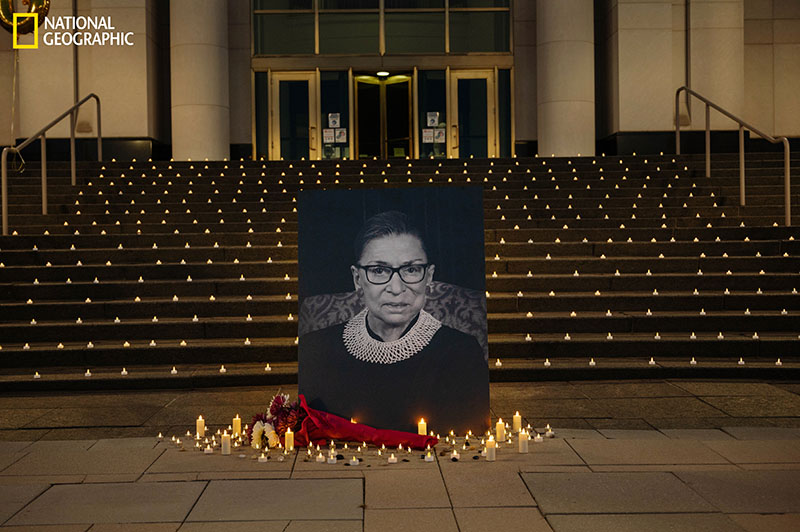 National Geographic also published its 21 Most Compelling Images of the 21st Century. One photo that captures the most important story for every year of this century was selected by Nat Geo photo editors. From war and human tragedies to scientific breakthroughs and species saved from the brink of extinction. Whitney Johnson, vice president of visuals and immersive experiences, curated this selection of 21 images.
Below we feature 5 of the photographs in no particular order.
---
Sidenote: Have you ever wondered what a National Geographic photographer's salary is? Here's what Nat Geo Photographer and founder of the Photo Ark, Joel Sartore, shares on his website:
For starters, it's not a salary.

National Geographic photographers are all independent contractors. That means that their contracts cover one story at a time. No contract, no work; no work, no paycheck.

The editorial rate in the U.S. is about $400-$500 per day. This seems like a lot until you consider that you don't work every day and must pay for your own equipment and insurance, and cover taxes to boot. Being a freelance photojournalist is not for the faint of heart and takes financial discipline. It's feast or famine.
---
About the author: Phil Mistry is a photographer and teacher based in Atlanta, GA. He started one of the first digital camera classes in New York City at The International Center of Photography in the 90s. He was the director and teacher for Sony/Popular Photography magazine's Digital Days Workshops. You can reach him via email here.
---
Image credit: Photographs courtesy National Geographic