WindowSight makes an interesting argument: you can listen to amazing music anywhere and watch movies any time, but the closest you can get to an artist's work at home is… Instagram? The company thinks that is a tragedy.
What if viewing photos paid photographers the same way listening to music on Spotify pays musicians? What if you cloud stream playlists of photos or paintings from different genres to your television rather than leaving it a blank when not in use?
WindowSight is a company that wants to make the same big leaps for photography and visual art that Spotify made for music, Vudu made for movies, and Netflix/Hulu/etc made for streaming television.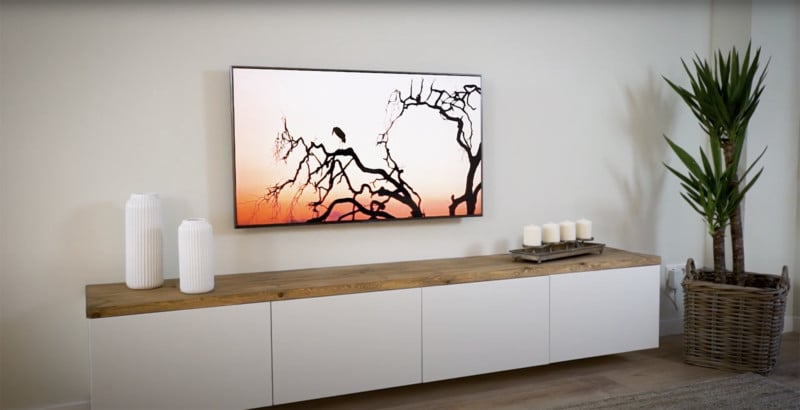 "The digital revolution that impacted most areas of our lives did not have the same impact on visual art," the company argues.
The Barcelona-based company wants to expand the reach of certain artists by making their work more accessible and viewed in a way that actually does justice to the finished image. Instagram, the leading social platform for still photography, may be a great way to discover an artist, but it isn't the best way to appreciate their work. Constraining rules, low-resolution images, and no revenue streams for artists aren't good enough, WindowSight argues. There should not be such a big gap between seeing images live, and scrolling through a feed.
"Through WindowSight, artists can make sure their art continues to be enjoyed by people anywhere, beyond temporary exhibitions and one-time sales," the company says.
The company curates all images one by one as they are submitted to the platform while also seeking new artists to add every day. As an artist, you can apply to be added to WindowSight here.
Because the company says they are a platform for visual artists like Spotify is for musicians, it might be expected that the app can be downloaded to your phone and enjoyed to the fullest there.
At present, that isn't the case.
WindowSight only works with supported televisions from Samsung and LG (using the proprietary smart TV systems Tizen and WebOS) or through streaming services AppleTV and AndroidTV. Full-size images are only viewable on a supported television with the app working mainly as a controller. This stance does make some sense from the company's perspective, though, as WindowSight clearly believes that the phone-based viewing system of Instagram is flawed, and seems all-in on using larger screens to fully appreciate an artist's work.
PetaPixel was unable to test the platform because devices on hand are not supported yet by WindowSight.
The company says that support for Roku and Amazon Fire devices is coming soon. At present, WindowSight is only for still images, though the company does plan to add video content in the future.
WindowSight plans to pay artists per view, just like Spotify pays artists a commission per play. While the company does have a free tier, that plan doesn't allow for streaming to a television (which makes the service lose it's biggest selling point, as images are displayed only in small thumbnails). WindowSight also has a premium subscription offering for €16.99 a month (~$20) which unlocks "HQ" artwork streaming with 50% of the membership fee allocated specifically to artists whose content you view.
The graphic is a bit confusing, as "unlimited sync with TV" is not the same as displaying to a TV. It is unclear what "sync" means in this case.
There does not seem to be an option that allows full-screen television viewing supported by ads, a lynchpin in the streaming strategy found with services like Spotify and others.
WindowSight's goals are lofty and challenging. The company positions its product as a way to bring art galleries into the home, but there are currently many barriers to entry for those interested in taking that journey with them. You can peruse some of the images on the platform on the company's blog here.
The WindowSight app is available on Google Play and the App Store.