ON1 has released its latest iteration of photo editing software, Photo RAW 2021, which includes new organizational tools, full integration of ON1 Portrait AI, new creative features, workflow enhancements, and several new features in the integrated Photo RAW for Mobile app.
ON1 calls the new Photo RAW 2021 a "hassle-free" professional photo organizer, RAW processor, layered editor, and effects app. Akin to Lightroom, Photo RAW is an all-in-one editing solution for images and is available in either a perpetual license or a subscription service.
ON1 has a large list of upgrades to the 2021 version of its software:
ON1 has added full integration of its ON1 Portrait AI, which finds each face in your photos, analyses them to find the eyes and mouth, and classifies them to apply the correct retouching. ON1 says that it "gives excellent results with minimal effort" by using frequency separation-based skin retouching built into the AI. It can also apparently make more complex adjustments to a face's shape and even the lighting. Each edit is non-destructive. "The addition of ON1 Portrait AI into ON1 Photo RAW will enable portrait photographers to automatically retouch an entire shoot," the company said. "Detecting and analyzing each face, then give them best-of-breed control and results for manual retouching when needed."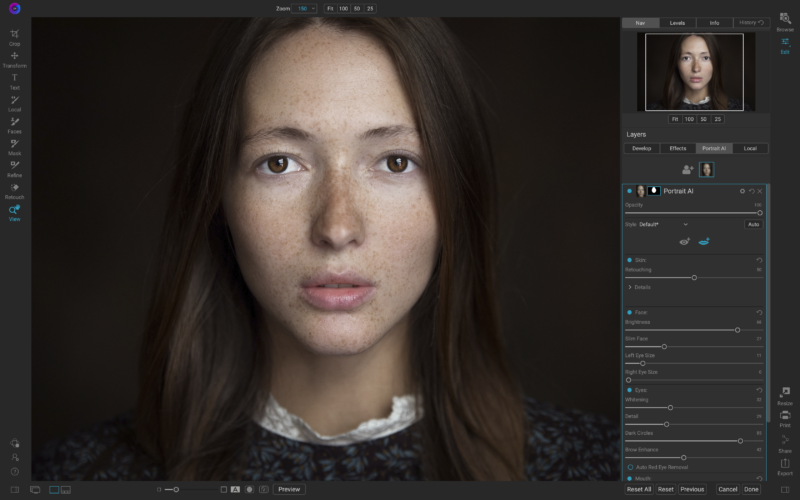 Additionally, the software includes a new Spot Healing Brush tool designed to quickly remove dust spots, power-lines, and unwanted people from photos. ON1 says the Spot Healing Brush is not only faster than the current tools available but also maintains full non-destructive adjustments for each area removed.
With the Replace Color Filter, you can easily change the color of an object to any new color. ON1 says it's ideal for adjusting the color of objects like eyes, flowers, buildings, and apparel.
ON1 added custom brush shapes, allowing you to choose from a variety of custom brush shapes or even import brush collections. The addition of a new flow control in brushing makes building up a mask easier as well.
The new Smart Organize mode quickly finds duplicates or finds and groups photos that have a similar appearance, location, or time.
Color-Sensitive Gradient Masks detects the color under the gradient and applies the mask to only that adjustable color range, best used to mask areas like skies while maintaining things like buildings or trees that bleed into them.
In addition to working as plugins for Adobe Lightroom, Photoshop, and Apple Photos, ON1 now extends into those using workflows in Affinity Photo, Corel Paint Shop Pro, and Capture One (coming soon). Easy access to ON1 Develop, Effects, and Portrait AI are available right inside these apps as plugins.
ON1 has added a Quick Slideshow and Full-Screen Preview that can be used with one click and launches a full-screen slideshow complete with user-adjustable delay and dissolve transition. Full-Screen mode is designed to maximize editing space on small monitors.
You can now process Batch HDR and Panoramic images. Once organized into sub-folders, the software can build HDR images or panoramic photos in batches to save time.
ON1 has added Color Fill Layers, which quickly set a background color for a composite layout. ON1 says they are also useful when used with the new custom brush shapes for painting in objects like grass, trees, and clouds.
ON1 has added new camera and lens support to its software as well:
New Cameras: Canon EOS Rebel T8i (850D), Canon EOS R5 (uncompressed only), Canon EOS R6(uncompressed only), Fujifilm X-S10, Leica M10-R, Nikon Z 5, Olympus E-M10 Mark IV, Olympus E-30, Panasonic DC-S5, Panasonic Lumix DC-G100, Sony A7S III, Sony A7c
New Lens Profiles: Canon EF 85mm f/1.4L IS USM, Canon G5 X Mark II & compatibles, Canon RF24-105mm F4 L IS USM, NIKON Coolpix P1000, Nikon NIKKOR Z 50mm f/1.8 S, Nikon NIKKOR Z 85mm f/1.8 S, Sigma 14-24mm F2.8 DG DN | Art 019, Sony FE 35mm F1.8, Tamron 17-35mm F/2.8-4 Di OSD, Tamron 18-400mm f/3.5-6.3 Di II VC HLD (B028), Zeiss Touit 2.8/50M
ON1 Photo RAW 2021 is available today. If you own a previous version of any ON1 product, you can upgrade for $79.99. For anyone new to the system, a perpetual license that includes a 1-year membership to ON1 Plus (the company's training resource for ON1 and general photography) is $129.99.
If you are already a subscriber to ON1 Photo RAW 360 Software and Service, you will automatically receive the new ON1 Photo RAW for computers and the new ON1 Photo RAW for mobile as part of their 360 plans. ON1 Photo RAW 360 always includes the latest version of ON1 Photo RAW, and start at $7.99 per month.
A single purchase of any ON1 products includes Windows and macOS versions, for use on two computers, and support for 11 languages.