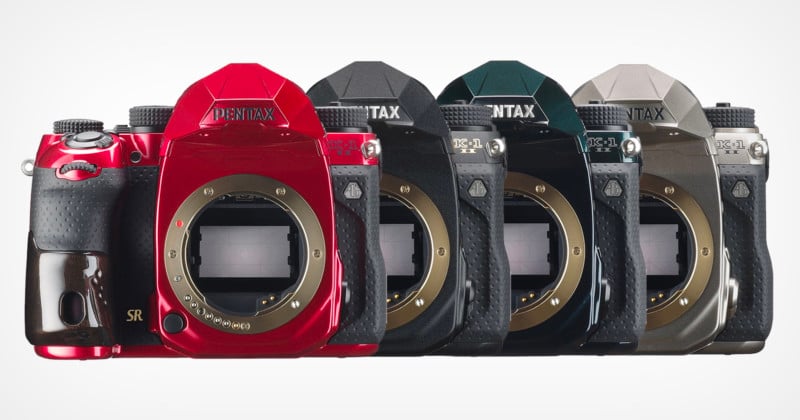 In addition to the Limited Lens series announced yesterday, Pentax has also updated its lens roadmap to include four more optics as well as launched a set of K-1 Mark II recolors for Japan.
Pentax published two lens roadmaps, one for all K-Mount lenses and one for specifically lenses that are compatible with 35mm Full-Frame format cameras. The full K-Mount lens lineup introduces four total lenses that are slated for 2021 or later (Pentax states that the roadmap may change without notice): the HD Pentax-DA Star-Series 16-50mm f/2.8 ED PLM AW, the HD Pentax-D FA 21mm Limited, and a telephoto zoom lens and large aperture wide-angle prime lens, both of unspecified focal lengths.
The full-frame compatible lenses exclude the Star Series 16-50mm, but the telephoto, wide-angle prime, and 21mm Limited lens will support full-frame.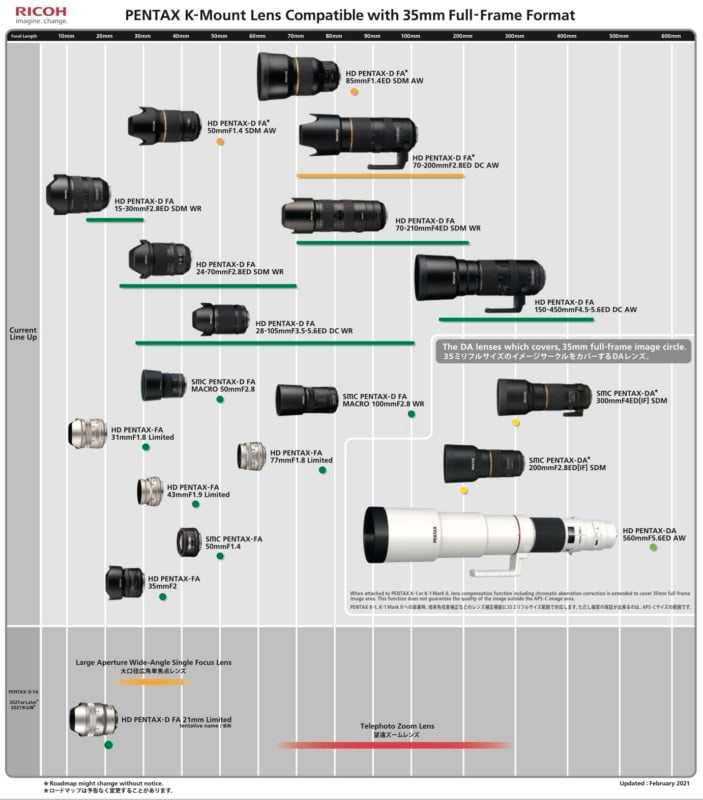 In addition to updating its roadmap, Pentax/Ricoh also announced that the K-1 Mark II would get a visual update in the form of four new colors: Black & Gold, Viridian, Scarlet Rouge, and LX75 Metallic. The K-1 Mark II J Limited 01 DSLRs are thus far only announced for Japan (the previous J Limited version was also only available in Japan) and feature eye-catching recolors of the camera that was originally announced in 2018 and released in the Spring of that year.
"This product was developed based on the "PENTAX K-1 Mark II", which is the highest-end model of the K series 35mm full-size digital SLR camera," Pentax writes. "In order to deepen the attachment to the camera, which is a personal tool, we have performed high-quality, labor-intensive processing, special color painting, parts change, etc., which are impossible in mass production, and each one is made to order. It is a special model that has been commercialized as a factory custom model that is carefully assembled and delivered."
No specific price was mentioned (it is stated as "open price") for the J Limited 01 recolors, but orders placed by March 21 will be delivered by April 30.
Ricoh has also announced that the Theta Z1 has been discontinued, and a new model will be announced by the end of March.
These announcements were clearly meant to accentuate Pentax's main event announcement which was supposed to be the K-3 Mark III. The company's forthcoming APS-C flagship DSLR was unfortunately delayed indefinitely last week due to parts shortages. Ricoh / Pentax have not stated a new timeline for the camera's release.
(via Photo Rumors and Pentax Rumors)