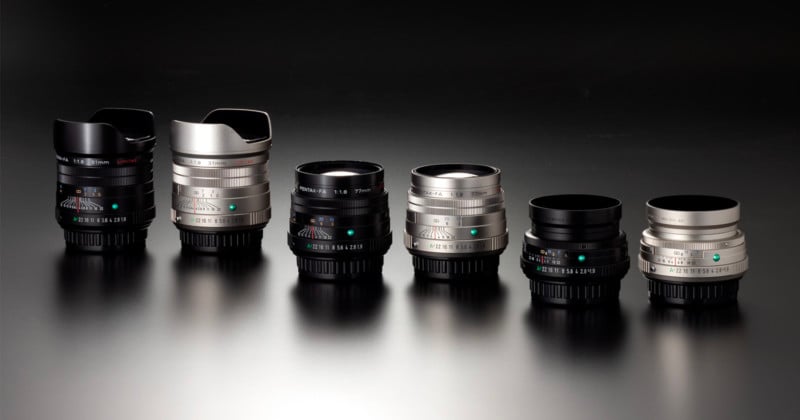 While some information leaked earlier this week, Pentax has today officially announced the availability of three lenses for K-mount cameras: the HD Pentax-FA 31mm f/1.8 Limited, 43mm f/1.9 Limited, and 77mm f/1.8 Limited. All three lenses are available in black or silver.
Pentax describes the 31mm f/1.8 Limited as a lightweight, versatile wide-angle lens offering sharp imaging performance with "natural perspective" and high contrast.
The 43mm f/1.9 is described as an ultra-compact lens with high contrast, high-resolution optics that is suited for a wide variety of everyday uses like hiking or travel. It features a unique design element: a mount pointer made of a Shippoyaki ware, which allows the user to mount the lens to a camera body "as effortlessly as other Limited Lens-series models."
Pentax says the 77mm f/1.8 is a lens specifically designed for portrait photography.
All three lenses have the qualities of HD FA Limited Lenses including what Pentax describes as an "outstanding description of texture," fine reproduction of gradation in the highlights, great detail reproduction, and natural-looking bokeh effects thanks to a rounded diaphragm. Most importantly, they are sharp and promise images free of ghosting and flaring even under backlit conditions.
The lenses are coated with Pentax's HD coating, which the company says assure higher light transmittance and lower reflectance when compared to conventional multi-layered coatings. On top of all this, Pentax says the Limited Lens series is visually distinctive by design and was made with a premium appearance in mind.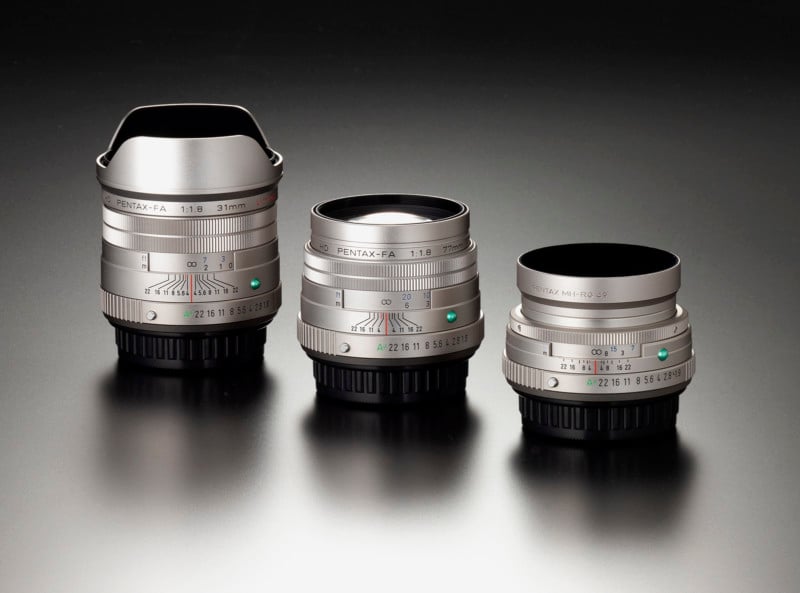 "While inheriting the design concept of the Limited Lens series, these lenses were designed through a series of mechanical and numerical evaluations, as well as human assessment of test-shooting samples, to deliver an image rendition unmatched by other models. The barrel, hood and cap are all made of high-grade aluminum, meticulously machined for an attractive appearance and beautiful texture," the company writes.
While Ricoh/Pentax has lifted the veil on these three lenses, the company has not confirmed any of the rumors around the reported recolors of the K-1 Mark II.
The lenses are set to be available in April. The HD Pentax-FA 31mm f/1.8 Limited Lens will retail for $1,050, the HD Pentax-FA 43mm f/1.9 Limited Lens will cost $600, and the HD Pentax-FA 77mm f/1.8 Limited Lens will retail for $800.