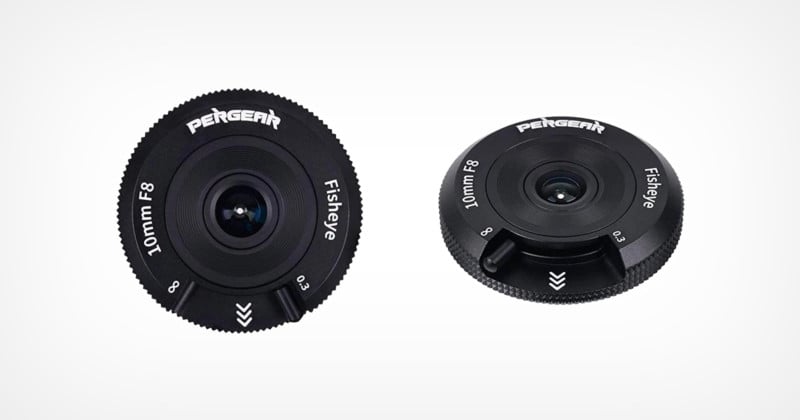 Pergear has announced a 10mm f/8 APS-C manual focus, wide-angle pancake lens for micro four-thirds, Nikon Z, Sony E, and Fuji X mounts that features an extremely compact "body cap" design.
Described as a "tiny fisheye pancake lens" designed for APS-C and micro four thirds, the tiny $79 lens is constructed of five elements in four groups (which includes three extra-low dispersion elements for improved contrast and color rendering) and weighs a scant 80 grams (~2.8 ounces). It is manual-focus only and can focus from as close as 30 centimeters (~11.8 inches) to infinity with a 150-degree angle of view.
The solid, all-metal anodized lens body is devoid of any features other than the somewhat unusual focus ring: a slider/focal lever that apparently takes a bit of getting used to. According to Peargear's blog, the focus slider is a "bright spot" in the lens design that "after a short term learning" is "very easy to focus." You can get a better view of the focus ring itself on a blog from Yuko Steel as part of a review of the lens.
A few images were provided to Pergear to show on its blog, which gives you an idea of the image quality to expect from the lens:
There is some notable distortion and sharpness issues, but these are pretty expected for a lens with so few elements and such a slim profile and its wide fisheye angle: on Sony E-mount APS-C, Nikon Z, and Fujifilm X-mount, it has an equivalent focal length of 15mm. However, on micro four-thirds, it is only 20mm which is not quite wide enough to qualify as a fisheye.
The Pergear 10mm f/8 pancake fisheye manual focus lens can be purchased from Pergear's online store for $79.
(via FujiRumors and Nikon Rumors)
---
Image Credits: Sample photos by Yuko Steel via Pergear.