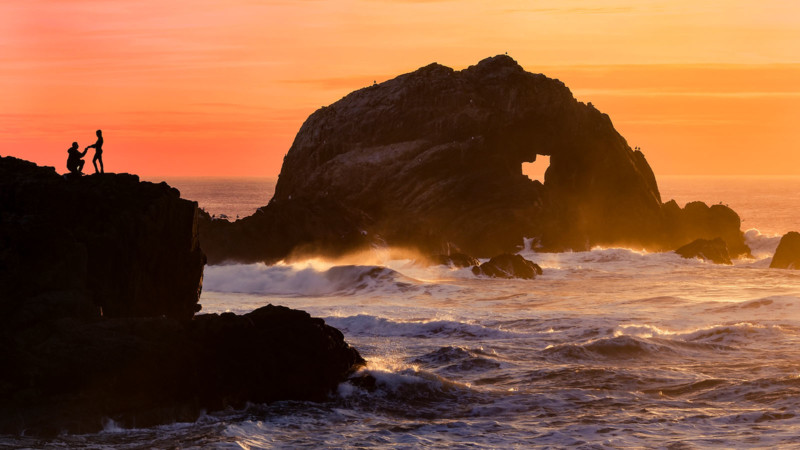 Photographer Denise Cottin accidentally captured a magical moment. On the left side of the picture was a man on bended knee, proposing to his partner. The couple was perched on the top of high rocks in silhouette against a pink sky that was dissolving into yellow with the waves in the foreground catching the golden sunset's glancing rays of light.
Added to this was a heart-shaped opening in the rock next to them for a very romantic setting.
Cottin, VP of Curriculum at the Academy of Art University in San Francisco and a graduate of their photo program, aimed her Olympus OM-D E-M1 Mark III and Olympus M.Zuiko Digital ED 75mm f/1.8 at the sunset at Sutro Baths in SF around 4:30 pm.
"When I saw the way the clouds were moving in the afternoon, I knew that I needed to be at the beach for sunset," Cottin tells PetaPixel.
"I did not notice the couple at first," recollects Cottin. "I was setting up for a sunset shot and took a test shot.  In reviewing the test shot, I noticed the couple, and I was able to make a quick adjustment and capture the one shot."
So, was this a lucky shot?
"One of my favorite photographers is Henri Cartier-Bresson, and I am a big fan of the decisive moment," Cottin explains. "For me, the decisive moment is where preparation and luck collide.
"As a professional photographer, we must have the expertise, experience, and equipment to make powerful images, but we must also be observant so that when an opportunity presents itself that our training takes over, and we make the capture."
"I was really caught up in the moment and I did get a little emotional because, you know, I had this beautiful scene with the heart and just to be witness to this couple's special moment was really emotional for me," Cottin recounts to Dion Lim at ABC7.
Can you help identify the couple in this engagement photo?

Photographer Denise Cottin @Cottinography captured this stunning image at Sutro Baths today and told me she got a little emotional witnessing this special moment!

Would love to find this couple! pic.twitter.com/oMA1SwUODZ

— Dion Lim (@DionLimTV) December 13, 2020
The image she posted was shared thousands of times online and Cottin hoped either the newly engaged couple would come forward so she could share the image with them, or someone could offer some help to who they are.
Soon she found out who the couple was, but when she learned about the story behind her shot, Cottin was "a little deflated."
It was another photographer's posed shoot — Joseph Kohn, a fifteen-year veteran photographer, was staging the shoot.
"I am a visual storyteller and what triggered me to come up with this idea was this gorgeous sunset, and there isn't much of a sunset in San Francisco," Kohn tells PetaPixel. "So, I thought, why not get someone who will go along with this idea, and luckily there was a group of young adults. They went along with it and climbed that rock!"
"I just took a few photos for concept purposes/illustration," Kohn says. "Little did I know that another photographer mistook it as an actual proposal and took that amazing shot!"
Kohn jokingly says that next time he may have a small airplane flying behind the rock "with a banner 'NOT AN ACTUAL PROPOSAL'."
Cottin says she was a little disappointed at how this story ended, but "at least we can say the case is closed."
---
About the author: Phil Mistry is a photographer and teacher based in Atlanta, GA. He started one of the first digital camera classes in New York City at The International Center of Photography in the 90s. He was the director and teacher for Sony/Popular Photography magazine's Digital Days Workshops. You can reach him via email here.
---
Image credit: Header photo by Denise Cottin and used with permission