Tragedy has befallen the photography industry. A well-known Tennessee-based photographer committed suicide yesterday, and in his suicide note posted to Facebook, he blamed the fact that he could no longer support himself and his loved ones through the art and profession he loved.
Max Ganly was a professional photographer based in the Knoxville area who worked in a variety of genres, including fashion, portraits, pets, and products. His clients included a long list of notable organizations and publications, including the University of Tennessee and USA TODAY.
But it seems that like countless other photographers are experiencing, the COVID-19 pandemic and lockdowns devastated Ganly's business.
Late Monday night, Ganly posted a note to his Facebook page stating that he would be taking his own life due to his photography business failing and also the "hate and ignorance" in the world.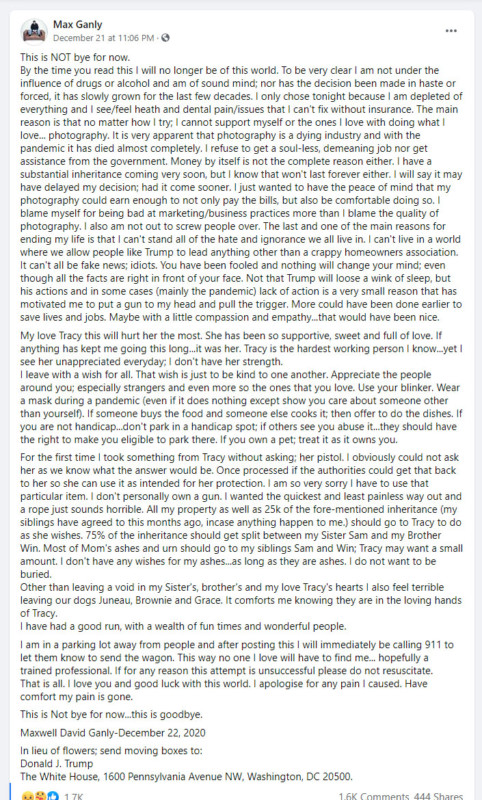 "The main reason is that no matter how I try; I cannot support myself or the ones I love with doing what I love… photography," Ganly wrote. "It is very apparent that photography is a dying industry and with the pandemic it has died almost completely.
"I refuse to get a soul-less, demeaning job nor get assistance from the government.
"[…] I just wanted to have the peace of mind that my photography could earn enough to not only pay the bills, but also be comfortable doing so. I blame myself for being bad at marketing/business practices more than I blame the quality of photography. I also am not out to screw people over."
Ganly's sister, Sam, confirmed his passing yesterday:
Tributes to Ganly are also pouring in from photography industry peers, clients, collaborators, and businesses:
I did not know Max Ganly, but I was aware of his stellar reputation as a photographer. He ended his life today after posting a suicide note on FB. Reach out to your family and friends–hold them close. https://t.co/eHrMcQxAXn #SuicidePrevention #SuicideAwareness #BeKind

— Marla Hardee Milling (@marlamilling) December 23, 2020
If you or a loved one are struggling, help is available from people ready to come to your side. In the United States, you can text START to 741741 (the Crisis Text Line) at any time for any kind of crisis. You can also call The National Suicide Prevention Lifeline at 1-800-273-8255 (TALK). If you're outside the US, you can find a list of suicide hotlines by country at The International Association for Suicide Prevention.