Skylum has officially launched Luminar AI which comes packed with multiple AI-Powered editing tools including an enhanced sky replacer and several new ways to reshape and change the human body or face.
Skylum has heavily hyped this latest software release with months of teasers and online chatter. The company says that with the launch of Luminar AI, it hopes to offer an alternative to the approach that traditional photo editors present and give creatives a workflow driven by artificial intelligence. Skylum says its goal was to remove tedious tasks and eliminate learning curves.
Templates System
The first step in this goal is realized through the new Templates system that automatically scans each photo for subject and problem areas and then recommends a Template that Skyulum says "challenges an artist's creativity while also helping them achieve common tasks." The idea is that Luminar AI quickly presents a Template for an image and gets the editor most of the way to a completed image, and then the editor can "tweak it" to customize it or immediately "ship it" if the result is to their liking.
According to Skylum, throughout the editing process Luminar AI "intelligently knows where to apply each effect" and lets the editor enhance those effects without the tedium associated with many editing processes.
The built-in AI assistant in Templates sees the relationships between all of the elements in a photo, thanks to 3D depth mapping. Templates are designed with the help of many incredibly well-respected photographers and photo editors, to achieve very specific edits and enhancements to individual components of an image. In less than two minutes, creators can go from an unprocessed image to 10 or more richly rendered starting points from which to build upon. – Dima Sytnik, CPO of Skylum.
AI Tools
Skylum has added a batch of new AI-enhanced editing tools to quickly edit people and landscapes, and all of them are branded with the "AI" moniker, so be prepared to read those two letters a lot in this section.
Luminar AI five new people-focused AI editing tools: Body AI, Iris AI, Face AI, and Skin AI. Body AI is clearly designed to tighten up a subject's body by adding or reducing "volume," as the company phrases it. Eye color be quickly adjusted or a "twinkle" can be added with Iris AI. Face AI and Skin AI are designed to fine-tune the face and reduce blemishes and shine.
With landscapes, Luminar comes in as one of the favorite tools for sky replacements, and Skylum has enhanced this feature further. The company says that Sky AI lets artists "reinvent their skies like never before" by automatically recognizing the sky in an image and offering various replacement choices upfront. Atmosphere AI gives the editor the ability to add effects like fog, mist, and haze while automatically recognizing other elements to the image.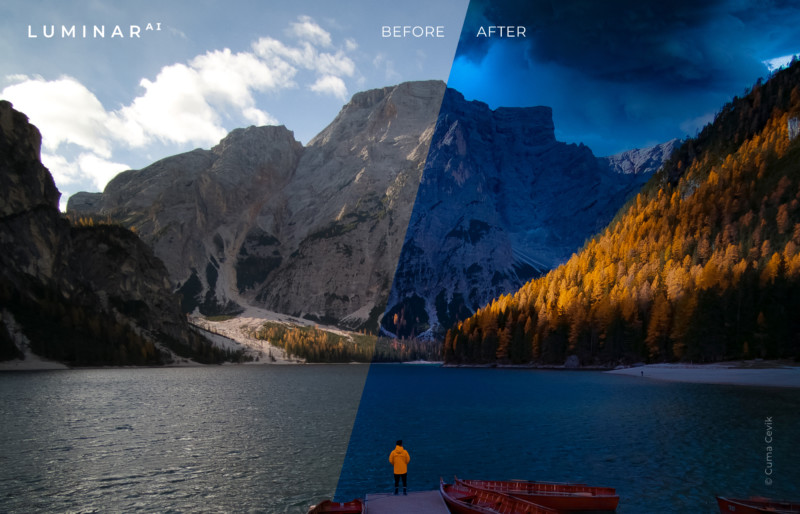 Skylum says that all images can use Luminar AI's Accent AI too, which "intelligently enhances photographs with the help of AI." What this means specifically wasn't clear, but it appears to be an AI-powered auto adjustment setting. Composition AI is that same idea, but with framing. It can intelligently offer cropping and framing options to a photo.
All of the AI tools here were added as the result of research by Skylum's team as well as coordination with professional photographers.
LuminarAI is available as both a standalone application, plugin for Lightroom Classic and Photoshop, as well as an extension for Apple Photos. It can be purchased for $99 at skylum.com/luminar-ai.