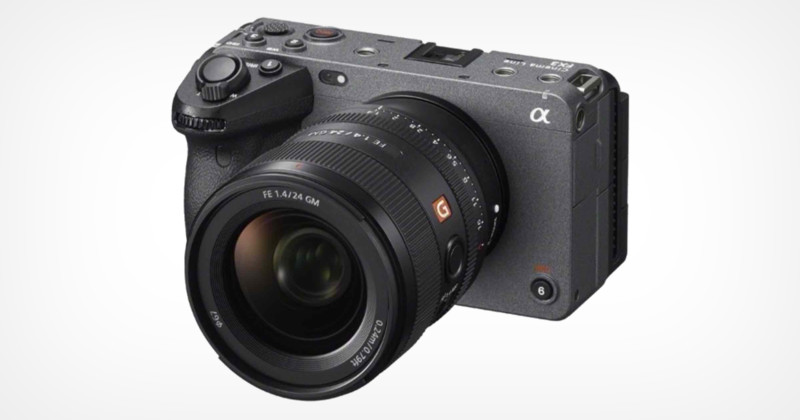 A pair of photos have emerged that appear to show Sony's next camera, depicting a look that combines the body profile of the Alpha series with cinema camera buttons. Called the FX3, it shares much in common with the design philosophy of the Blackmagic Pocket Cinema Camera.
In the two images that have leaked online, one appears to show that the camera is far more than an idea and very likely currently in the field testing.
The photo has been deleted by its original uploader but shared on Twitter. The text "Cinema Line FX3" is visible on the top of the camera across from a traditional hot shoe mount and what appears to be a multi-directional joystick and a large "record" button.
That joystick, which would normally be on the back of the camera, may have been relocated to make room for the much larger multi-angle rear-LCD which appears to be similar to the design found on the Panasonic Lumix S1H which, while slightly bulkier, is considered one of the best vari-angle LCD designs in an SLR-like camera. The back of the FX3 appears to be otherwise quite similar to other Sony Alpha bodies.
The main rectangle of the camera body seems to be made of metal and also clearly screw points (like a built-in cheese plate) for attaching the FX3 into larger camera rigs. The protruding handgrip has the typical still-camera shutter button and toothed dial, but in the second leaked image looks to be made of a different material than the rest of the body, likely plastic.
The inclusion of that frontmost button would seem to indicate that the FX3 is designed to shoot still images as well as capture video, despite its "cinema line" designation.
The entire package looks very compact and similar in size to the a7C or the a7 III, leading many to assume this is a full-frame compact cinema camera designed to compete directly against the S1H and Blackmagic Pocket Cinema Camera in which, as mentioned, the FX3 shares many design choices in common.
Further unverified rumors claim the camera will record 4K at up to 120 frames per second, will not support 8K recording, will take CFexpress Type-A cards (like the a7S III and Alpha 1) and cost 3,750 Euro (~$4,600).
(via Sony Alpha Rumors)