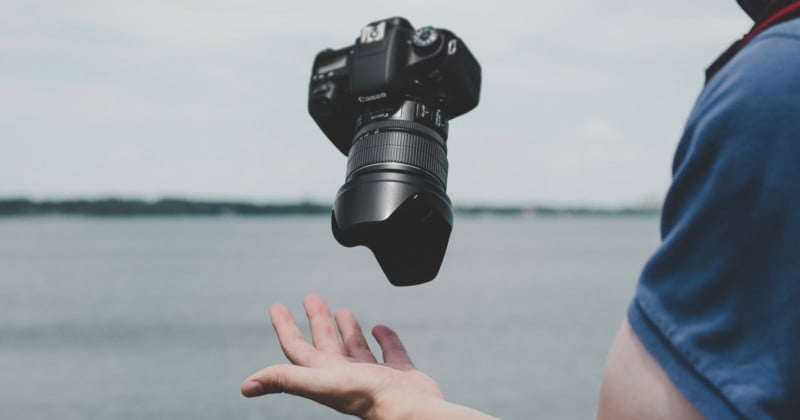 As you might expect, the used market is several years behind the new market when it comes to trends. DSLRs had ruled the secondhand market but for the first time, KEH reports their sales have finally dipped below mirrorless.
One might argue that the used market draws a unique picture of what a lot of the public is still shooting, selling, and rebuying.
KEH recently published a report that highlights the used mirrorless market and notes that, as shown in its 2020 sales recap, DSLRs are a huge part of its business. In that sales recap, KEH notes that DSLRs ruled the company's top 10 best-selling cameras and has done so for the last decade. KEH said at the time that it expects DSLRs to be a major workhorse camera style for years to come, but also to expect mirrorless to grow in popularity.
In 2020, not only did mirrorless make an appearance, it took top honors: The a6000 was KEH's top-selling camera of that year.
"It takes a huge volume of sales to get to the top of our list, so it's clear that there's a tremendous amount of Sony a6000's circulating out there to feed both supply and demand," the company writes. "Additionally, we've seen that the Sony E-mount in general, is a camera system that many are actively seeking and selecting as their first foray into interchangeable-lens photography, or as an upgrade from a previous generation DSLR."
As noted by CIPA in recent years, DSLRs may sell in large numbers still, but they do not command the value that mirrorless cameras do. KEH is starting to see that trend affect the used market now, as it reports that revenue from DSLR bodies shrunk by 6% in 2020, while mirrorless bodies saw a jump of 91%.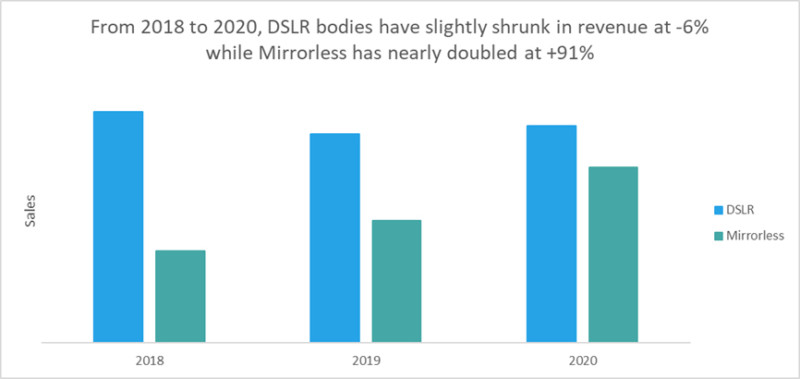 KEH's data also mirror's CIPA's, as it reports that the average price of a mirrorless camera on the used market is 78% higher than DSLRs, and trending upwards.
Mirrorless lenses are on that same pace, though DSLR lenses are still in a commanding lead.
"DSLR lenses still make up a larger bulk of our revenue when compared to mirrorless, and that's certainly notable," KEH writes. "The ability to adapt DSLR lenses to newer mirrorless bodies has kept that category of gear still relevant, and it looks to continue to be that way for the foreseeable future."
The biggest shift in the market happened in December of last year, as KEH reports that revenue from DSLRs was surpassed by mirrorless cameras for the first time.
"Now that manufacturers are focusing on mirrorless, and photographers have started making it their first choice, the tipping point is all but imminent where mirrorless overtakes DSLR as the biggest piece of the pie," KEH reports. "We finally saw this happen in December of 2020 — it was the first time in our history where mirrorless beat DSLR in revenue generated. All signs point to this shift to continue over 2021."
For those paying attention, this data should not come as a surprise. Mirrorless was assuredly going to take over both the new and used markets eventually given their ability to sell for more and, based on KEH's report here, hold that value over time. Seeing data like this from multiple agencies is why it is curious to see companies like Pentax reject mirrorless and push forward with DSLRs: the future is not bright for the format.
You can read KEH's full report on the state of the market used market with regard to mirrorless and DSLR sales here.
---
Image credits: Header photo by Andrik Langfield.