The Xiaomi Mi 11 recently launched in Europe with the expectation that the Lite, Pro, and Ultra iterations of the phone would shortly follow. In a now-offline YouTube video, the Ultra was seemingly revealed and boasted a very unusual camera array.
While the original video by Tech Buff PH has been set to private, a mirror of the original is still available that shows a huge rear camera array that, while it could be a fake, looks quite convincing. The Model number M2102K1G matches a previous rumor of the model name "K1" stated by kacskrz who is a historically trusted source on Xiaomi devices. XDA-Developers lists a few other reasons why this leak looks legitimate in its report here.
If the device shown in the video is real, the camera bump on the Mi 11 Ultra is substantial. Tech Buff PH claims the unit will have a 50-megapixel main sensor, a 48-megapixel wide-angle, and a 48-megapixel periscope telephoto zoom lens. On one of the two phone models Tech Buff shows, the text on the camera array reads 120X Ultra Pixel AI Camera while the text on the other reads 120X, 12-120mm, 1:1.95-4.1. It is a bit odd that the text on the two phones is different, but that could also be attributed to the pre-production nature of the devices.
If Xiaomi stopped there, the camera array would not be that much different than what has been seen in other similar cameras, but the model shown adds a unique feature: a second tiny screen next to the camera lenses.
In some of the clips where that screen is shown, the full display from the front of the device is visible on that tiny screen, which seems pretty impractical. it's more likely that the second screen is designed to be used for selfies which would allow you to take advantage of the higher-quality rear cameras instead of having to rely on the usually much worse front-facing camera.
What is odd is that this particular version of the phone seems to mimic exactly what is happening on the front of the phone, and it's unclear why this would be a desirable feature. Either this is just a side effect of the prototype nature of the device's software, or it's one possible hitch that may indicate the claim to authenticity is false.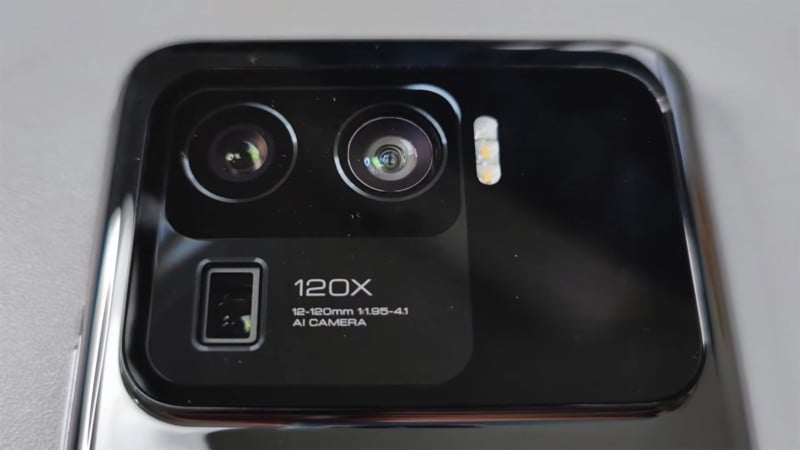 Whatever the case may be, if this leak does end up being true, the tradeoff for these camera features seems to be a truly gargantuan physical bump. In multiple images, that bump is shown to be significantly raised off the back of the phone and likely carries noticeable weight with that physical jump in size.
The Xiaomi Mi 11 Ultra wasn't expected to drop this month, so seeing a leak so far is a bit of a surprise, and may be an indication that more leaks are forthcoming.
(via XDA-Developers)